After purchasing a song from our Song Store, you can then print the song from our website, or from our Desktop app.
Printing From The Website
1. Visit our site and log in to your account
2. Hover over your name, located in the top right corner of the navigation menu, to display the dropdown menu. Once the dropdown menu appears, click on "Print Lessons".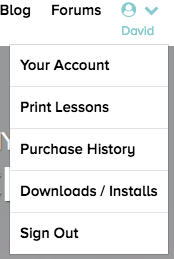 3. You'll then be redirected to a page listing your "Printable Lessons", each with a "Print" link located to the right. Click the "Print" link to begin your print.

Printing From The Desktop App
1. Open the Desktop app and log in.
2. Go to 'My Songs' tab in the top menu.
3. Open the song lesson for the arrangement that you want to print, then click on the printer icon on the far right in the Toolbar menu. Note: If you don't see the printer icon, expand the window by dragging on a corner to see the full menu.